RUSSELLS IN ACTION
= a funny and informative weekend
full of events for Parson and Jack Russell Terriers
On Sunday the V1 television arrived and they shot
an interview about Jack Russell Terriers and russells in action
during coursing and dogfrisbee for the "Lap-dogs" programme.

The programme was broadcast on July 27, 2013 and you can watch it in the television's archives. It is the 32nd episode and you can find the reportage at about 6:30.

On Friday the Černá Hora radio invited the visitors to this action.

You can also see a photographic gallery at the website of a magazine about dogs Pes přítel člověka.
Here you can download the pictures from the action:

Denisa Kočová's pictures
Petr Šimerda's pictures
Participant Eva Kaninova's pictures
Participant Miroslav Dvořáček's pictures
Zuzana Slanska's pictures - a ceremony of the test in an artificial fox hole
This year we have organized the first "Russells in Action" weekend in Horni Jeleni near Pardubice in the Czech Republic at the date from 14 to 16 of June, 2013. The weather was really excellent. It was the first nice weekend in this year. Many other "dog events" took place in the same weekend and so that 44 adults with 25 Parson Russell Terriers and 16 Jack Russell Terriers and some children gathered at the action. Some people with other dog races came too and they just watched the program or they even attended some items of the program. Some hunters from the neighbourhood and some nearby villages and towns residents came to see the event. However the space for the event is so large that we could be threefold!
| | |
| --- | --- |
| | |
The whole weekend took place in the area of the Horni Jeleni artificial hole and at the large neighbouring meadow, in which there has been possibility of camping and parking. The meadow adheres to the Radost recreational facilities, which have sufficient capacity for this action. We also used the hunting ground of the Ostretin hunting association where the hunting training took place. Ostretin hunting association took care of refreshment and excellent game cuisine throughout the weekend.
The program started by practicing bolting, which was attended by a large number of dogs. For some of them it was their first opportunity to test contactless bolting in an artificial hole. But all were surprisingly successful. During the training the attendance took place and thanks to our sponsors everyone obtained a very rich attendance package.
| | |
| --- | --- |
| | |
Saturday's program began at 9am and participants could successively attend the handling, trimming and dogfrisbee training up to 5pm, in which the experienced instructors devote their time to them. Hunting training took place from 11am to 3pm and almost all participants attended it. There was really a great response to this training. They praised that they had been looking for information for long and in vain, and now they learned everything during one weekend. The participants got to know what hunting tests exist and what disciplines are in them. Then they were divided into two groups. They tried walking on leash with their dogs, a dog layaway, a retrieval and they also learned something about how to motivate a dog and how to let him/her know what is correct and what is wrong, with one instructor. Other instructors showed the participants how to prepare a bloodtrace and all dogs successfully tried a short bloodtrace leading to a wild boar corium at the bloodtrace end. And at the end they could even try searching and finding a wild boar and stopping it by barking, which is a discipline of the hound test for hunting wild boars. Different hunters of the area were also interested in this training.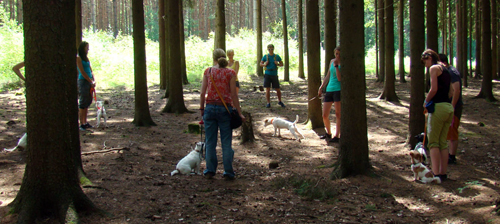 | | |
| --- | --- |
| | |
| | |
| --- | --- |
| | |
On Saturday there was also possibility to get tested dogs regarding hereditary eye defects (including DNA sampling) and the patella defects. The examinations were obviously written in the pedigree. The contactless bolting training took place again from 6pm.
Saturday evening was crowned by dancing and thanks to our sponsors by a very rich raffle, of which possibly everyone won something even if one participant was particularly lucky...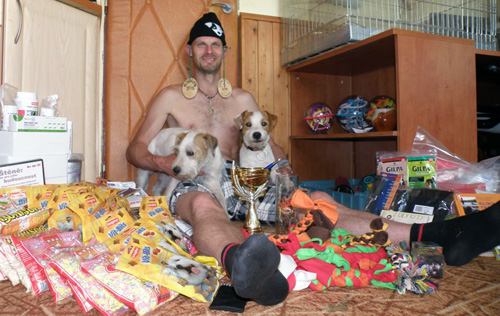 Sunday began with trials of contactless bolting. Judges and hole masters were very impressed with the results of these tests. All nine entered dogs passed the test, seven of them had full number of points and times of the first five dogs ranged from 10 to 16 seconds! Some of the entered dogs hereat had seen an artificial hole for the first time this Friday! All participating dogs obtained very nice prices thanks to the sponsors, and the first three could not even carry them away...

Results of the club contactless bolting
June 16, 2013 - Horni Jeleni
| | | | | | |
| --- | --- | --- | --- | --- | --- |
| | 1st place | Dolores Killers Hole | PRT | Michaela Balkova | 84 p. - 10 s |
| | 2nd place | Nicolas Cerny Faun | PRT | Pavel Hlavacek | 84 p. - 12 s |
| | 3rd place | New Fletcher Gold Floren | JRT | Ivana Sipalova | 84 p. - 13 s |
| | 4th place | Berry White Fascination | PRT | Alzbeta Plachtova | 84 p. - 13 s |
| | 5th place | Amaretto Armonia Canina | JRT | Zuzana Slanska | 84 p. - 16 s |
| | 6th place | Marco Polo Cerny Faun | PRT | Pavel Hlavacek | 84 p. - 20 s |
| | 7th place | Anne Killers Hole | PRT | Natalie Janulikova | 84 p. - 21 s |
| | 8th place | Crixi Polanecke svahy | JRT | Ivana Vymazalova | 81 p. - 46 s |
| | 9th place | Leonardo Da Vinci Cerny Faun | PRT | Michal Jorda | 76 p. - 23 s |
GREAT CONGRATULATIONS TO ALL OF YOU!
Before and after the ceremony of the Club Bolting Tests we heard a very interesting lecture about the Club of Working Terriers, about the use of locators during bolting and about the first aid. All the information were from the practical use of terriers in natural holes. The lecture was completed with information about the use of GPS during hunting wild boars.
From 12am the participants could try coursing and despite enormous tiredness after a three-day marathon in sunny weather dogs ran behind plastic tassels wondrously and they put their best foot forward, despite there were many who met this sport for the first time. In the afternoon the participants could still attend the course of jewelry production from dog hair. Each participant took a necklace made ​​of his/her dog hair and some of them wear it every day.
The V1 television arrived in the afternoon and they filmed a short interview about Jack Russell Terriers and then they shot russells in action - during coursing and dogfrisbee. This program was broadcast on July 27, 2013 and you can watch it in the television's archives. It is the 32nd episode and you can find the reportage at about 6:30.
I'd really like to thank to all sponsors of this event. Only thanks to them all event's participants took not only a lot of new knowledge and experience, but also a lot of goodies and useful things for dogs and people, and they can hardly cram them into their cars. I would also like to thank the Ostretin hunting association, without whose support, provision of premises, providing hunting tests and providing excellent hunting cuisine throughout the weekend would not had been possible to carry out this action. Big thanks also to all instructors and many devoted helpers during the whole event.
Before leaving there were different participants who said goodbye to me and they thanked me very much for organizing such an event and they said that they are excited by the event.
And here are some excerpts from later comments:

"Amazing weekend, great participants, amazing atmosphere, great weather, a lot of fun, we arrive next year for 100%!"

"My husband is talking only about this and he still casts his mind back and of course he wants to attend it again next year!"

"I have attended only a bolting test and I was pleasantly surprised by a friendly and cheerful atmosphere and by professionalism of the organizers. Thank you for this event and I would like to attend it next year."

"The experience was very intense, the weather was perfect, simply cool. I look forward very much to the next year. I really thank you."
Well, a new tradition started and participants are already looking forward to the next year of the "Russells in Action", which will take place on June 20 to 22, 2014 at the same place. You will be again informed about the next year on this website and at Facebook but even so, certainly make a big sign in your calendar so that you do not miss this event!
A program of Russells in Action in brief
- Horni Jeleni 2013:
| | | | |
| --- | --- | --- | --- |
| | Fri - June 14, 2013 | 5pm to 8pm | Contactless training in a fox hole |
| | | | |
| | | | |
| | | | |
| | Sat - June 15, 2013 | 9am to 1pm | Patella examinations |
| | | 9am to 5pm | Dog show handling, trimming and dogfrisbee training |
| | | 11am to 3pm | Hunting training |
| | | 3pm to 7pm | Eyes examinations |
| | | 6pm to 7pm | Contactless training in a fox hole |
| | | 8pm | Roasting a pig, dance, tombola & entertainment |
| | | | |
| | | | |
| | | | |
| | Sun - June 16, 2013 | 8.30 to 12am | Club contactless test in an artificial fox hole |
| | | Before & after | Lecture: GPS during hunting, a locator for fox hole hunting, |
| | | the ceremony | Working Terrier Breeders Club, first aid |
| | | 12am to 7pm | Coursing |
| | | 1pm to 4pm | Jewelry of dog's hair manufacture course |
Let us invite you to the second year of the "Russells in Action" weekend. The action will be held on June 2014 and it is designed for the owners of Jack Russell Terriers and Parson Russell Terriers. The event is focused in that way that we can all enjoy it, no matter whether we are already working with our dogs or not. The event is held in the pleasant environment of Horni Jeleni's artificial hole and at the adjacent meadow. Some club hunting tests are a part of this event, and each year we will modify them a bit. The program begins at 5pm on Friday. Furthermore, during the weekend we advise you on hunting training and you can try different hunting disciplines like free searching and behavior near to an extinguished game, walking on leash, putting a dog away, retrieving, preparing bloodtrack and wild boars searching and announcing by a dog.
| | |
| --- | --- |
| | |
But this weekend is not aimed only at hunting, there is a lot of more fun. This year it has been coursing, dogfrisbee, trimming and handling (i.e. performing a dog in a show ring). The physicians have been present to control eyes and patella. On Saturday evening when the tired dogs were fallen asleep, we roasted a pig leg and we enjoyed music, dance and a tombola.
During the weekend it is possible to sleep at Radost camp in Horni Jeleni in cabins or in rooms for very low prices. The camp is located in the immediate proximity of the venue and the camp is always booked for this event. It is also possible to build your own tent and exhibition tents and shelters near the single events. The local hunting association takes care of excellent game meals and refreshments during the weekend.
| | |
| --- | --- |
| | |
The program of "Russells in Action" will vary a bit from year to year so that we could try different activities. So next year we can try eg. agility, dogdancing, flyball, obedience. In the coming years we also want to invite a judge to tell us something about judging in a ring and his/her opinion on this breeds. Each year we will try to prepare nice prizes for you too. The first year of Russells in Action the participants found it difficult to squeeze all these nice things in their cars!
Due to the easy updating, the most up-to-date information will be on this page. You can freely distribute a link to this website among the potential interested people. The event organizer is KCHT (A Club of Terriers Breeders) and thus you can find information about this event in KCHT newsletters and at the news of the KCHT website too (but only in Czech). A "Russells in Action" Facebook group has been found but it is only in the Czech language.
| | |
| --- | --- |
| | |
If something is not clear or you want to ask something you can send me an e-mail at: jrt@jack-russell-terrier-jrt.cz or phone me at:  00420 603 164 831 or skype me at: zuzana.slanska.
We wish you a next funny weekend of
"Russells in Action"!




On behalf of the organizational team
Zuzana Slanska





WHEN THE WEEKEND STARTS RUNNING,
THE RUSSELLS' EVENT IS STARTING!
Marten's retrieval
Retrieval from water
Hunting a marten
Hunting wild boars
We thank to our existing sponsors and other sponsors are welcome. Apart from the other they can be also listed on this page.


DRUGSTORE - COSMETICS
Masarykovo nám. 911, Pardubice

"OD JELENSKÉ NORY"
Smooth-haired fox terriers kennel
The other years of the Russells in Action:

2014

2013

At the beginning of the page