RUSSELLS IN ACTION
= a funny and informative weekend
full of events for Parson and Jack Russell Terriers
YOU CAN REGISTER EVEN NOW, AFTER THE DEADLINE!
A program of Russells in Action in brief
- Horni Jeleni 2014:
| | | | |
| --- | --- | --- | --- |
| | Fri - June 20, 2014 | 5pm to 8pm | Contactless training in a fox hole |
| | | | |
| | | | |
| | | | |
| | Sat - June 21, 2014 | 8am to 2pm | Club hunting pentathlon (CCT, KV) |
| | | 2pm to 4pm | Patella examinations |
| | | 4pm to 6pm | Eyes examinations |
| | | 2pm to 7pm | Trimming training |
| | | 2pm to 7pm | Rehabilitation and strengthening exercises on balance balls |
| | | 8pm | Roasting a pig leg, dance, tombola & entertainment |
| | | | |
| | | | |
| | | | |
| | Sun - June 22, 2014 | 7.45am to about 11.00am | Club contactless test in an artificial fox hole |
| | | Before & after | Lecture: Alternative medicine for dogs |
| | | the ceremony | Dokonalá Láska |
| | | 12am to 1pm | Hunting training in a fox hole |
| | | 1pm to 3pm | Dogdancing |
Propositions and registration forms to download
Let us invite you to the second year of the "Russells in Action" whose brief program, propositions and applications can be found above. Furthermore you will find pictures from the last year and all information regarding this year too.
In 2013 we have organized the first year of the "Russells in Action." The event brought together a bunch of nice folks who came with their dogs to have fun and to learn something new. I think that we have managed to achieve both aims thanks to the interesting and abundant program and the participants went away very satisfied. This satisfaction is, of course, binding and so we tried to prepare as interesting program as possible in 2014 - a bit different so that you can get to know new activities and opportunities.

As mentioned above, the new year of the event will be held from June 20 to 22, 2014 at the same place as in 2013. You can find all up-to-date information at this website and at Facebook but in any case make a big dot in your calendar so that you do not forget it!
Jewelry of dog's hair manufacture course


The action is designed for the owners of Jack Russell Terriers and Parson Russell Terriers. The weekend "Russells in Action" started so that we can all enjoy it, no matter whether we are already working with our dogs or not. The event takes place in a pleasant environment of Horni Jeleni's artificial hole and at the adjacent meadow.
| | |
| --- | --- |
| | |
| | |
| --- | --- |
| | |
The event also includes club hunting tests, which will vary each year. The program begins on Friday by contactless bolting at 5pm. A club hunting pentathlon will be held On Saturday. Until now I can tell you that there will be the following disciplines:

1. Walking at the leash
2. Willingness to work on wild boar
3. Following the leader
4. Finding a track of the leader
5. Contactless bolting - speed (the 2nd round with filling the hole with sand)

You will find all of these disciplines (apart from a few details) in the Examination Regulations in force but you will find all the details of the single disciplines in the propositions. We have made them a bit easier for you.
This hunting pentathlon was designed so that it can be understood also as hunting training but at the same time we will compete with each other. It is the first year of this pentathlon, so do not worry. The point is that you can try it. Nobody will make fun of you! Some disciplines are a bit easier and no discipline is limitary, which means that if a dog does fails in one discipline, he/she can continue to participate in all other disciplines and continue to compete. Thus no failure does not exclude you!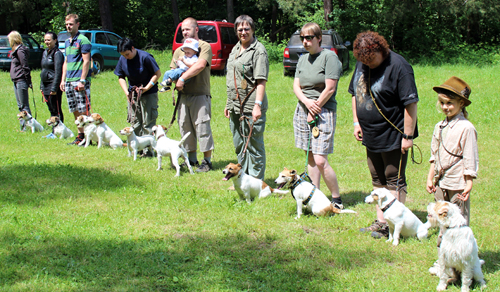 You have to teach your dog the disciplines 1, 3 and 4 but they are not difficult and you can teach him/her at any place. Only in case of the the third discipline your dog has to be used to hear a shot. It is also good to go with your dog at the shooting range (preferably from a puppy) and to behave there as if nothing is happening and it's completely normal. And even better is to go there together with a dog that already knows it and considers it to be a normal situation.
| | |
| --- | --- |
| | |
In case of the disciplines 2 and 5 either a dog has these instincts inside or not but how we ascertained the last year, most of the PRT and JRT have these instincts. Moreover, when they see that other dogs are interested in it so the are interested too. The participants of the last year could try these two disciplines last year and they were surprised to see how their dogs were doing well! So that do not worry, just trust your dog. You will probably be surprised how your dog is skilful. Last year there were many dogs who saw an artificial burrow for the first time on Friday and then on Sunday they perfectly succeeded during the contactless bolting test. So much that the judges were very surprised, they liked this test very much and they talk about it with great respect!

So no worries!
And even if you did not manage as you would like, at least you can look how the others do it and what mistakes you are doing and you can succeed next year or during the other hunting test because these disciplines are taken from various hunting tests. Certainly it can be useful that you have already tried it for size at an event like this. This is also the reason for the organization of this pentathlon. Do not be afraid, even an experienced hunter sometimes does not succeed in some disciplines...
Navíc v tomto pětiboji máte možnost získat titul CCT, res. CCT a KV - PRT i JRT. Moreover you can get a CCT, res. CCT and KV title in this pentathlon - PRT as well as JRT.
Another hunting test will be a contactless bolting test on Sunday. On Sunday, after this test, the dogs will have a possibility to try pulling a small dead fox out from the artificial hole. It's very useful for practical hunting and it also verifies the dog's skilfulness and efforts to boast about his/her prey. My dogs have never done it and for that reason they all definitely try it because I do not know when they will have such an opportunity again.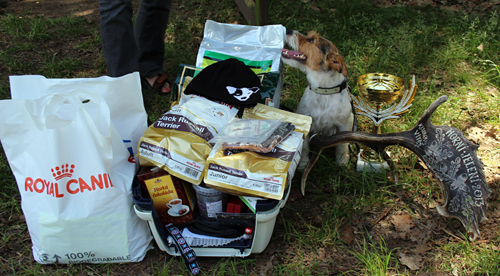 This weekend will not be focused only on hunting, there will be a lot of more fun. Next year it will be relatively new rehabilitation and strengthening exercises on balance balls, then again the trimming training and newly a dogdancing arrangement accompanied by music together with minicourse how to teach your dog some tricks. Again there will be a possibility of the eyes (including a DNA collection) and patella examinations and on Sunday we will hear a lecture about the various possibilities of the alternative medicine, incl. a possibility to purchase products, music CDs, etc. On Saturday evening when the tired dogs were fallen asleep, we will roast a pig and enjoy dance and fun.
| | |
| --- | --- |
| | |
During the weekend it is possible to sleep at Radost camp in Horni Jeleni in cabins (possibly in rooms) for very low prices. The camp is located in the immediate proximity of the venue and the camp is booked for this event. But certainly do not hesitate with booking a cabin or a room. It is better to book the lodging in advance and at worst, you can always cancel the reservation. It is also possible to build your own tent and exhibition tents and shelters near the single events. The local hunting association will take care of excellent game meals and refreshments during the weekend.
We have changed the program of "Russells in Action" a bit and it will slightly vary each year so that we could try different activities. So next year we can try eg. agility, flyball, obedience, etc. In the coming years we also want to invite a judge to tell us something about judging in a ring and his/her opinion on this breeds. Each year we will try to prepare nice prizes for you too. The first year of Russells in Action the participants found it difficult to squeeze all these nice things in their cars!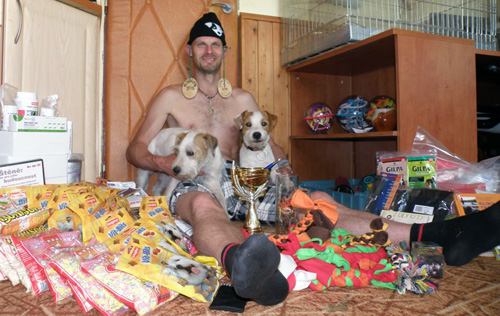 Due to the easy updating, the most up-to-date information will be at this page. You can freely distribute a link to this website among the potential interested people. The event organizer is KCHT (A Club of Terriers Breeders) and thus you can find information about this event in KCHT newsletters and at the news of the KCHT website too (but only in Czech). A "Russells in Action" Facebook group has been found but it is only in the Czech language.
If something is not clear or you want to ask something you can send me an e-mail at: jrt@jack-russell-terrier-jrt.cz or phone me at:  00420 603 164 831 or skype me at: zuzana.slanska.
We wish you a next funny weekend of
"Russells in Action"!




On behalf of the organizational team
Zuzana Slanska





WHEN THE WEEKEND STARTS RUNNING,
THE RUSSELLS' EVENT IS STARTING!
Marten's retrieval
Retrieval from water
Hunting a marten
Hunting wild boars
And here are some comments regarding the previous year:

"Amazing weekend, great participants, amazing atmosphere, great weather, a lot of fun, we arrive next year for 100%!"

"My husband is talking only about this and he still casts his mind back and of course he wants to attend it again next year!"

"I have attended only a bolting test and I was pleasantly surprised by a friendly and cheerful atmosphere and by professionalism of the organizers. Thank you for this event and I would like to attend it next year."

"The experience was very intense, the weather was perfect, simply cool. I look forward very much to the next year. I really thank you."
We thank to our existing sponsors and other sponsors are welcome. Apart from the other they can have a link to their website on this page.



The other years of the Russells in Action:

2014

2013

At the beginning of the page